The last day of the cruise was a day at sea.  The ship steamed along the coast as it slowly made its way back to Fort Lauderdale.
Grandma Dot met the girls for breakfast on the main deck.  She held onto the girls for several minutes and was so glad to see them.  Tears filled her eyes as she sat down.
The breakfast buffet had so many items to chose from.  And the girls were getting a bit more adventuresome with their choices…
"Belgian waffles with cream and fruit," said Grandma Dot.  "That looks good!"
"I'm having Mexican hot chocolate," said Bea.  "It tastes like it did in X-Caret."
After breakfast, the four women made their way to the sanctuary area of the pool deck. Grandma Dot and Prudence found a comfortable and quiet spot.  Purity and Bea decided to join in some activities with the other young people on the ship.
They came back about a half hour later and they were both SO excited…
"Guess what!" said Bea.  "The teenage group has organized a 'dance for charity' by the pool. The charity they chose is the National Coalition on Domestic Violence.  The teenagers hope to raise $1000 by the end of the cruise.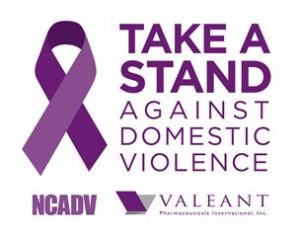 "According to this flyer the teenagers created on a Microsoft program, 'Domestic Violence is the willful intimidation, physical assault, battery, sexual assault, and/or other abusive behavior as part of a systematic pattern of power and control perpetrated by one person living in a home against another. It includes physical violence, sexual violence, psychological violence, and emotional abuse. The frequency and severity of domestic violence can vary dramatically; however, the one constant component of domestic violence is one person's consistent efforts to maintain power and control over the other,'"explained Purity.
"That's a very needed charity," acknowledged Bea.  "We got to help distribute the t-shirts to all of the passengers who bought one!"
"And the t-shirts that they designed are on sale for $10 each. Will you both buy one?  They have organized an event on deck: "Dance to Stop the Violence.  Can we go dancing by the pool?"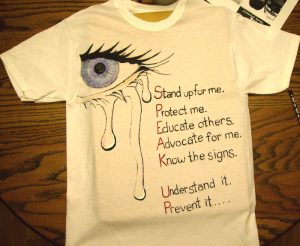 "Of course," exclaimed Prudence.
"Lots of women find themselves in abusive situations," remarked Grandma Dot.  "I heard one in four women are dealing with Domestic Violence right now."
"I bet it's higher than that!" sighed Purity.  They walked up to the pool and checked out the situation.
After less than a few hours, the teenagers had raised over $750 for their charity.  Then the dance began.  The cruise director got the big screen set to YouTube and the party started.  Before long, even Grandma Dot was up dancing to Cyndi Lauper's song,"Girls Just Wanna Have Fun!"
Purity and Bea were dancing in the sunshine and having SUCH a blast!  They did not see their older brother sneak up on them…
"Come on! Let's get out of here!" said Braiden pulling Bea out of her dancing reverie.  Purity didn't even flinch.  She rammed right into him and knocked him off his feet.  He crumbled to the ground as a deck lantern fell squarely on his head.  He was out cold.
"Oh, Hell!  I'm in trouble now!" said Purity.
"No, I don't think so," said Prudence.  "He's going to wake up, with a big lump on his head and NO memory of what he saw here."
"He'll wake up here or with the parents," asked Bea.
"He'll be safely with the parents," said Prudence.
"But he's not the only one who knows about our adventures, Prudy," said Bea looking sideways at her Grandmother.
"And I'm not going to tell anyone – least of all Braiden," exclaimed Grandma Dot.  "He's been a real pain in the butt lately, and he can just miss out on all this wonderful fun!" Grandma Dot hugged both her granddaughters tightly.  "Happy Valentines Day! I know I'm a few days behind, but I do love you both so much!"
The rest of the day was a bevy of excitement.  Prudence had made reservations for Grandma Dot and the girls to get the royal treatment at the ship's beauty salon. They each got their hair done, and their nails manicured/pedicured.  As she waited for her sisters and Grandma Dot, Prudence went to the cruise ship shops and found a beautiful dress for Grandma Dot to wear at the last night Valentine Ball.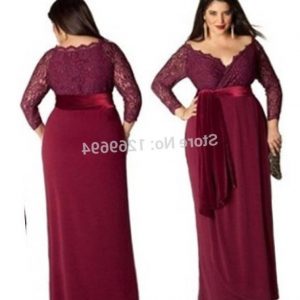 Grandma Dot smiled so widely.  She looked happier than the girls had ever seen her.  Particularly when a handsome older gentleman noticed her and asked her to dance.
"I'd love to dance with you," said Grandma Dot to the handsome stranger.
As the night was winding down, Prudence took the girls aside…
"We should dance together, don't you think?" asked Prudence.  "Girls can dance together when there aren't enough male partners.  And there never is.  Come on Purity, you first…" She took Purity in a dance embrace and they spun slowly around the floor together for several minutes.  At one point in the slow dance, Purity rested her head against Prudence's shoulder and she thought about how safe she always felt around her big sister. Prudence's skin was always warm and so soft.  She hugged her closer. Purity did NOT want to forget what this moment felt like.
Next Bea was up.  Bea found her fingers caressing the tips of Prudence's nails in no time.  This was how they always connected.  And now that Bea had freshly manicured (but, not painted) nails too, it was even better to touch.
"I don't want to go," said Bea.
"It's time to go home, sweet sisters," said Prudence. "It's time to say good bye – for now." Bea started to hug Prudence very tightly.  And Purity knew the time was growing short.  She came into their hug and they continued twirling slowly on the dance floor as the next song started to play.
The next thing they knew, Purity and Bea found themselves hunched over the horn of the truck.
The ship was gone.  Grandma Dot was gone and Prudence was gone too.
"Stop that damn horn!" yelled a voice from inside the house.
The girls pulled themselves reluctantly up from the steering wheel. They opened the doors of the truck and climbed slowly out.  They didn't say anything to each other until later that evening. They were both laying in the dark waiting for sleep to come.
"Hey," said Purity.
"Hey," said Bea.
"I'm so glad that I'm not the only one going on these adventures with Prudence," said Purity.
"Yeah, I'd be afraid I was nuts!" replied Bea.
And again they were quiet.
"I love you, Purity," said Bea.
"I love you too, Bea," said Purity.
Bea turned to hug her pillow in the darkness.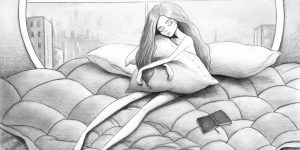 But Bea was restless.  She sat up. She reached over and snapped on the tv. She turned the volume way down. She instantly recognized the song from the movie, Titanic – "My Heart Will Go On."
And Bea knew that HER heart would indeed "go on." She knew her oldest sister loved them both very much.
And knowing that, Bea knew she could conquer…ANYTHING! 🙂