Advent is a season observed in many Christian churches as a time of expectant waiting and preparation for the celebration of the Nativity of Jesus at Christmas as well as the return of Jesus at the second coming.  So it seems appropriate, on this first day of Advent to mark its beginning on our Sketchy Scribe page.  Christians light candles – one purple candle each week and a third candle or the pink candle the Sunday before Christmas.  Another candle, a white candle is lit on Christmas Eve and it is known as the Christ Candle.  Here, check this out!  This animated film will better explain…
Of course, I'm still waiting too.  No word from the parents on the four page letter I sent.  I think it's pretty clear that a simple apology isn't going to "cut the mustard" in this situation. The parents have no intention of talking to me.  They seem to want the situation the way it is.  They see no reason to talk.
But…I'll continue to wait in anticipation for a turn of fortune.
In the meantime, Grandma and I have decided to have an Italian themed Christmas this year.  We're going to have pizza and lasagna for dinner instead of our usual British Christmas of Roast Beef and Yorkshire pudding.  I'm excited!  I think I'll go all out Italian and go to Catholic Mass on Christmas Eve.  Remember the time we went to the Holy Land for Christmas?
That story was called Three Wise Women.  Try this link:
Anyway, I anticipate this is going to be a beautiful Christmas season.  All my Christmas shopping is done and I am actively enjoying the expectation of joy and peace coming my way.
Jews enjoy waiting for the eight nights of Chanukah to begin – next week!  We get eight crazy nights to celebrate our dedication to our faith.  My Hebrew students are going to have a Chanukah Angel gift exchange and they are greatly excited about that.  They each pulled a name of a fellow classmate out of a hat.  Then we talked about what they wanted for Chanukah so we could get some ideas of what to buy.  Ten dollars is the most we are supposed to spend, but sometimes, we go over that.
Most people don't know the story of the Chanukah angel.  It comes from a book in the bible that only Catholics, Jews and Biblical Scholars are into: Maccabees.  After Judah Maccabee and his soldiers rededicated the temple in Jerusalem, the war with Antiochus was not over.  Antiochus brought elephants into the land of Israel to crush the rebelling Jews.  But God sent us an angel.  This angel proclaimed that God was with the Jews at this dark time.  That right would overcome might.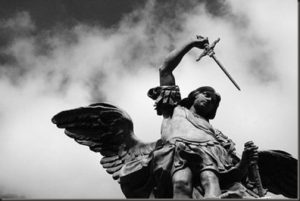 That's exactly what happened.  The Jews won the war with Antiochus and Israel was ours.  Many years of anticipation and fighting happened before this victory.
With that in mind, let's wait with increased anticipation and listen to this beautiful rendition of the song, Halleluyah. If you listen very carefully, you'll hear the girls sing a Latin version of the song and then change to a Hebrew version.  Wow!  Breathtaking and in front of the Pope!  The Israeli Prime Minister Shimion Peres is sitting with him.