Hiya girlies!  I'm hanging out at a Southern Seafood restaurant havin' a bit of lunch before I go back home to keep working on my lines.  My lines for Act l are pretty solid, but I gotta get my Act ll lines down by Thursday night.
In the meantime, we had fun at the housewarming party I went to last night.  My Steel Magnolias cast mates and I hung out together most of the evening.  Here we are: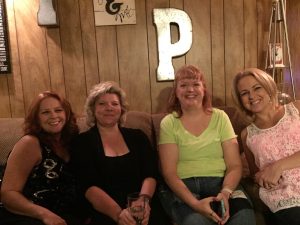 Today I went out to buy stuff to use to decorate the Christmas tree we are using for the play. I bought a whole mess of plastic babies to make into baby Jesus'.  That's what the play calls for.  I'm excited!  Our Christmas in July party should be fun.  The gal in the green and I are going to Glen Ivy tomorrow.  She has never been and it will give us a chance to talk about the close relationship our two characters have.  That day of conversations will translate on stage as a deep friendship.  It's amazing how this play seems to come along when I need it.
Here's a great song for being in the car, "rolling your windows down and crank in' the radio up." There are a few romantic things in here – just ignore them, of course.  It's hard to find new love songs that aren't romantic.  This is a fun southern song though.  I hope you like it.