More ideas for trips this summer.  Who knows, maybe you could come with me if things blow in our favor.
This is Hearst Castle in San Luis Obispo, Ca.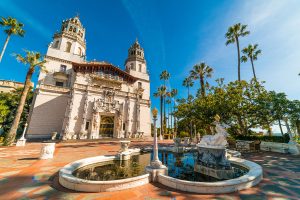 William Randolph Hearst had this castle built in the earlier part of the 20th century.  He was an American newspaper publisher and mogul who built the nation's largest newspaper chain and media company.  His use of flamboyant methods like yellow journalism influenced the nation's popular media of the time period by emphasizing sensationalism and human interest stories.
His castle is so gorgeous to see.  I haven't been back there in years.
Solvang is a little town about an hour south of the castle. Solvang was founded in 1911 by a group of Danes who traveled west to establish a Danish colony far from the midwestern winters. Going to Solvang is like going to the country of Denmark in Europe.There is a copy of the famous Little Mermaid statue from Copenhagen. The city is home to a number of bakeries, restaurants, and merchants offering a taste of Denmark in California. The architecture of many of the façades and buildings reflects traditional Danish style.