I hope you liked my story and I hope you got a little sugar yesterday. I did not.  I have been indulging in sugar substitute this round of my challenge and it just is not working with my body.  I've still NOT lost anymore weight.  In fact, I'm up a pound.  It's very frustrating to give up yummy potatoes and French fries and gain weight!  Ugh!  Two more weeks to go on this challenge.  If I don't lose six pounds this week, I'm disqualified.  So: no more sugar substitute of any kind, no more diet coke, no more oatmeal (which I love slathered in sugar substitute syrup).  When I was young, I was a gymnast, did you know that?  I was lean muscle, period.  My mentor was the Soviet gymnast, Nadia Comanici.  Look at those muscles!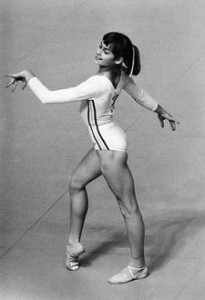 In order to get some semblance of that body back, I've gotta pump up the water (which I was addicted to as a kid), dump the carbs, (which I hated as a kid) and strength train my butt off.  Ok, enough venting about my body.  I just want to be a good role model for you.  Take care of yourself.
When I was little, I'd watch Archie's Funhouse.  Here are the Archie's singing about your favorite food: sugar.  I miss sugar.  If you aren't getting any either, here's a little "Sugar, Sugar" from me.