Less than a month until the play.  The kids are painting sets, building backdrops and getting their lines down better.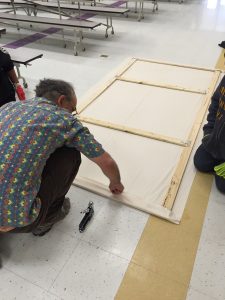 I really wish I had my two favorite girls here to help me look for costumes.  I need a few sewers.  No costuming class this rotation.
Ordered a pizza tonight for dinner (can't do THAT much longer) – see the next post.  Gotta get up early and work on progress reports.  Busy, busy busy.  I hope you've found things to keep you busy too.  Helps make the time go faster.
Two BIG dinner parties this weekend.  Yes, it helps me get through the days.
As always, I miss you both.  You are always in my thoughts.  I have a picture of you both on the HUGE flat screen TV in my classroom.  My students know who you are.  They look at the website too!  There are many "sketchy scribes" in this world as it turns out. 🙂