I took Grandma up to Barstow shopping today.  She also wanted to eat at a restaurant called Panera.  I made those chocolate chip cookie cupcakes for her too!  She liked them very much!  I bought her a cookbook (which she had asked for) and some food in a basket so she could start eating healthy right away.
I know you wish you could be with us.  Know that we are always thinking about you.  We rarely get together and do not talk about you girls.  We miss you very much.  I'm so glad we can connect this way.  I think I'd go bonkers if I couldn't write you every day.  And it doesn't matter when you read it.  You both KNOW that I've been thinking of you: every day, twice a day, month after month, year after year.  It is all archived (stored away) for you.
Grandma likes Yanni.  When she and I went to his concert, Grandma was literally dancing in the aisles.  This song, Niki Nana, means "We are one."  If you've been reading my past posts, you know that we are all connected.  There is NO separation.  Don't allow your mind to doubt.  Have faith.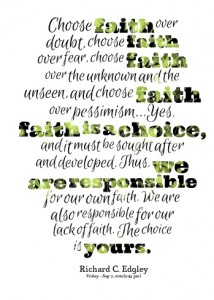 Chose faith, sweet sisters.  Listen and think of Grandma dancing in the aisles of a huge concert hall.  Smile.  We are one.  🙂