I know you are uber excited to be going!  I know you'll have a magnificent time. Please take LOTS of pictures, so we can put them in your scrapbook.
My prom was at the Disneyland Hotel in Anaheim, California.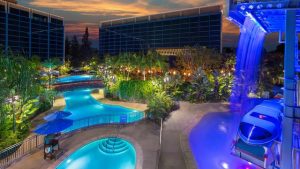 Not sure if that's where you are going.
I did not ride on the bus either.  My date, Jay, and I drove down.  He came all the way from Tucson, Az. to be my date.  Unfortunately, a dear friend of his died a few days before.  So he wasn't his usual chipper self.  But I was so determined to have a good time, I did not let it keep me down.  It wasn't til after the prom was over that he told me about his friend.  It explained a lot.
Just be careful tomorrow night, sweet Purity.  For some reason, boys think girls will give up (you know what) on prom night.  I think you are smarter than that though.  Just dance the night away and have a fabulous time!
I bet you look so beautiful!