I've decorated my front door for Halloween.  What do you think? Pretty good huh? I bought the corn stalks at our local pumpkin patch – such as it is. I bought the lights from Walmart and World Market.  There are owls homing up the walkway and owls on the door. I do love skeletons!  I just love Halloween!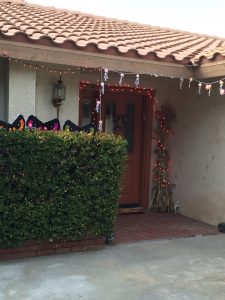 I think Halloween is one of my favorite holidays, ever!  I'll be giving out Kit Kats and Sour Patch kids in your honor Monday night.
I'm sure you won't be able to come by.  That's ok.  Enjoy yourselves with whatever you do.
I'll keep remembering that fun Halloween when I took you both trick or treating around the model home park, remember? I think that was one of my favorite Halloween nights.  Here's a little music to help you get into the Halloween mood… The spelling is pretty bad, I know.  Try to ignore that.  ?